3:41 pm
[vkxonline]

Custom Good Charlotte Homepage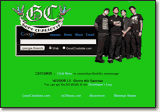 GOOD CHARLOTTE
The boys in their full glory. You can customize the whole page to have links to whatever you want, and make it your homepage.
9:51 am
[xdeathforlifex]

Great news - though I may be late!
When I went to Warped Tour a few weeks ago, I went over to the Dropkick Murphy's tent and they were telling me about the new GIVE 'EM THE BOOT DVD from Hellcat that is going to be released next week. I've been waiting for something on the Hellcat bands and it's finally here. Its supposed to have lots of live performances by bands like Rancid, Transplants, Horrorpops, Tiger Army, and a lot more. Joe Strummer and Iggy Pop are on it too...plus all the Hellcat bands. By far this will be one of the best music DVD release all year!
2:37 pm
[jadedsimplicity]
How come no one ever updates in here?! =( Makes me sad to see what could be a decent Good Charlotte community go to waste... ='(